Not Enough
Prospects in Your Pipeline?
FREE
Quick Start
Back-to-Basics
Sales Boot Camp
For
Newly-Hired Salespeople, Veteran Salespeople and Sales Managers/Coaches
Presented by
Mike Stewart
Atlanta, GA
To Be Announced
Sales Management Training Workshop
For
Sales Managers
and Executives
Presented by
Mike Stewart
Atlanta, GA
To Be Announced
Fear Free Prospecting and
Self Promotion
Workshop®
For
Salespeople,
Sales Managers/Coaches
and HR Professionals
Presented by
Mike Stewart
Atlanta, GA
To Be Announced
Call Reluctance®
Advanced Accreditation Training Workshop
For
Sales Managers/Coaches,
HR Professionals, Trainers, and Recruiters
Dallas, TX
May 1-3, 2012
For details about these programs and to register: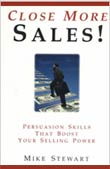 "Whether you're
new in sales or a seasoned veteran, this book is
a treasure!"
The Midwest Book Club

Order Your Copy
Close More Sales!
more info





A b o u t U s

About Mike Stewart Sales Dynamics


Mike Stewart Sales Dynamics, a division of Stewart & Stewart, Inc, is a consulting and training firm headquartered in Atlanta, Georgia. We help sales organizations hire blue-chip sales candidates and provide sales training, sales management training, consulting and coaching services to the sales profession and personal success industry.

We love meeting planners!
We pride ourselves on being easy to work with, delivering more than we promise and making our meeting planners look good.
Click here to engage us or to request our Fee Schedules.
Mike Stewart, CSP, RCC, President, speaks and writes on contemporary sales, sales management and personal performance issues. He consults with sales managers, executive coaching services. Mike has written ten books, contributed to seven others, and is a leading expert in diagnosing and overcoming Sales Call Reluctance®. Click here for Mike's Bio.

Barbara Stewart, Director of Operations
Rick Wemmers, Associate, is a nationally recognized business development expert in the banking industry. He provides consulting and sales training and gives firecracker talks to sales groups and other business organizations. Rick specialized in diagnosing and overcoming Sales Call Reluctance®.
View Downloadable Business and Casual photographs of Mike, his family and his associates.


Certified Speaking Professional

Mike is one of fewer than 500 speakers worldwide who have earned the prestigious Certified Speaking Professional (CSP) designation from the National Speakers Association and he is listed in Who's Who in Professional Speaking.
He is a top-rated Course Leader on the faculties of the American
Management Association and the Canadian Management Centre, Past President of the Georgia Speakers Association, and an active member of the American Society for Training and Development. He is also listed in Marquis' Who's Who in America.


Sales, Management, and Leadership Experience
Mike was a leading salesperson and award-winning sales manager for Marcoin Management Services, a business management-consulting firm serving the petroleum distribution industry. During his 20-year career with them he developed keen insight into the realities of what it takes to be successful in the field as he rose through key leadership positions. He served as Vice President and as a member of the Board of Directors and Executive Committee of this national franchise company, the leader in its field with 200 offices coast-to-coast.

He has extensive experience successfully managing corporate P&L responsibilities; consulting with entrepreneurs, executives, managers, and professional salespeople; and selling management advisory services, accounting services, and business-format franchises. He has also successfully operated five businesses of his own.

In service to his country as a paratroop captain in the U.S. Army, Mike was selected for advancement on the top 5% list. He has consistently been selected to serve in leadership positions within the civic, service, and religious organizations to which he as belonged.


Sales, Management, and Leadership Awards
Mike received Chevron's Professionals in Action award, their highest recognition for superior management and customer service, twice in the 3˝ years he was associated with them. He also received Carlson Learning Company's Circle of Sales Excellence Award of Merit. He was honored as Georgia Speaker Association's member of the Year.


Publications
Mike's book Close More Sales! was released in October 1999. His story Staying Motivated! appears in the New York Times best-selling Chicken Soup for the Soul series and he developed Sales Negotiations for Higher Profits for the American Management Association. His textbook Professional Sales Skills is being used to train 12,000 sales professionals in the ready mix concrete industry and he co-authored a book for the U.S. Small Business Administration. His treatise You'll Never be a Hot Dog if You Think Like a Weenie appears in the anthology Reach for the Stars!
To see Mike's Book Store Click Here
Clients
Mike Stewart and Mike Stewart Seminars have worked with a wide variety of companies representing many industries including accounting, automotive services, biomedical, building products, capital equipment, chemical, construction, computer, consumer products, consulting, distribution, education, electronics, financial services, fitness, food, franchising, health care, hospitality, insurance, manufacturing, petroleum, pharmaceutical, poultry, printing, retail, software, telecommunications, training, and transportation - plus the U.S. Department of Energy, the U.S. Small Business Administration, and hundreds of small business owners.
To see Mike's Client List Click Here
For More Information
Contact Us
******************************

You Can Absolutely Do A Better Job of Growing Your Business,
Increasing Your Income, and Improving Your
Job Satisfaction and Your Life!
For More Information
Contact Us
Subscribe to Our Free Sales Booster™ E-Zine
Sales, Management, Motivation, Attitude, Communications
Free Professional Development Bonus
Click for Details
Hiring Top Producers | Sales Training | Executive Coaching | Assessment Tools
Management Training | Programs & Speeches | Consulting | Mike's Book Store
Resources | Clients | About Us | Contact Us | Home | Privacy Statement
Mike Stewart Sales Dynamics
Division of
Stewart & Stewart, Inc.
24315 S Stoney Path Drive
Sun Lakes, AZ 85248


TEL: 480-883-3008
FAX: 206-203-4156
Email Us

©1999-2013 Stewart & Stewart Inc. All Rights Reserved.