Not Enough
Prospects in Your Pipeline?
FREE
Quick Start
Back-to-Basics
Sales Boot Camp
For
Newly-Hired Salespeople, Veteran Salespeople and Sales Managers/Coaches
Presented by
Mike Stewart
Atlanta, GA
To Be Announced
Sales Management Training Workshop
For
Sales Managers
and Executives
Presented by
Mike Stewart
Atlanta, GA
To Be Announced
Fear Free Prospecting and
Self Promotion
Workshop®
For
Salespeople,
Sales Managers/Coaches
and HR Professionals
Presented by
Mike Stewart
Atlanta, GA
To Be Announced
Call Reluctance®
Advanced Accreditation Training Workshop
For
Sales Managers/Coaches,
HR Professionals, Trainers, and Recruiters
Dallas, TX
May 1-3, 2012
For details about these programs and to register: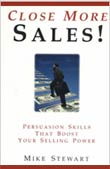 "Whether you're
new in sales or a seasoned veteran, this book is
a treasure!"
The Midwest Book Club

Order Your Copy
Close More Sales!
more info



Can You Achieve Sustainable
Behavioral Change Through
Focused Training?

Yes You Can! "Today, two years later, my staff
is still referring to your course as the best training
they ever had....Sales increased 28% last year!"
- Thomas McCoy, VP Cybex


Sales Skills, Management and Motivation

Training and Development Programs
Good performers can become better performers. Some have the potential to become great performers. The difference is often the quality of training they receive, coupled with determined follow up.
Unique Programs...More than 16 Years...More than 1,500 Presentations... representing thousands of salespeople and sales managers from around
the world.
Our unique training programs have proven track records of producing results for more than 15 years with more than 100 clients representing thousands of salespeople and sales managers from around the world.
We want our participants leave every session with improved skills and greater will to succeed.

"I've felt the same excitement and motivation I felt 15 years ago..."
- Alex Navarro, Ben Sherman, USA

Shortcuts to list of programs and speeches/short programs


Here's How You Get Sustainable Behavioral Change
Our exclusive thirteen-week seven step Cumulative Impact sales performance development process begins with a professional assessment of your team's needs using a battery of proven sales performance assessment instruments. These scientifically validated instruments measure motivation, goal direction, Call Reluctance®, and sales skills.
Although most professional training generally is advertised to include Assessment, Design, and Delivery, the "assessment" phase is often fatally flawed. As a result, the training is based on processes that do not produce desired results. You may be surprised to learn that conventional wisdom about the assessment of salespeople is wrong. Learn More
In order to produce lasting, sustainable change the processes we offer include the following seven steps:
1 > Assessment
2 > Design
3 > Delivery
4 > Reinforcement
5 > Application
6 > Accountability
7 > Behavior Change

Regardless of the area of sales and management training and development you are interested in, we would like to talk seriously with you about what you have at stake and your objectives, time frames, and budget.

"Mike's real gift is in presenting the selling information in a way that
allowed our company to formulate a plan to move forward."
Nick Grisafe, MBA, Field Sales Rep., Bayer Environmental Science

Contact Us About Your Professional Development, Sales and Management Training Needs
Whatever your situation may be, we encourage you to carefully consider opportunities you have to make a lasting impact on the performance of your organization, as well as your own career and personal success.
We will be your advocate and always do our best to insure that you make the training and development choice that is right for you given your specific situation.
We offer interactive programs designed to help our participants learn by hearing, seeing doing and sharing. Our objective for every engagement is to conduct an event that is both mentally enlightening and emotionally motivating.


"The best money we ever spent!"
- Gene Harless, Chapman Drug Co.



Professional Development Programs

The Urgency Factor™

- Successful Self-Management Behaviors
- The Behavioral/Value Equation
- Flow: Where High Achievers Operate
- Setting and Achieving Meaningful Goals
- Awareness: Focus and Concentration
- Flow: Operating in The Zone
plus
- Program Based on Manager's Targets
- Personal Energy/Tension Grids
Supercharge Your Persuasive Power

How you present yourself to others directly affects your day-to-day success. To gain understanding, cooperation, support, and commitment from others, you need to understand what makes them tick and why they behave as they do. Only then can you purposefully adapt your own behavior to interact most persuasively with them.
It is critical to help employees learn to manage change within every organization that desires to be competitive. Unless progressive reorganization initiatives and aggressive sales strategies are embraced by those charged with implementing them, growth and profitability will be severely limited.
Personal Mastery™ Executive Coaching

If you can't afford to wait four or five years to move your career and your life to a higher level, Mike will work with you to create a program just for you, specifically designed to achieve your goals.





"I have accomplished more personally, regarding my career,
in the past few months working with Mike than I
have accomplished in my entire career."


- Randy N. Waldman, Vice President, Sales
Lintech International
For maximum results from your training, see
"Cumulative Impact" Process above



Sales Training Programs

Customer-Centered Value Selling™

- Identifying and Selling Target Accounts
- Following Up / Managing Business Through the Sales Funnel
- Drilling Deep - Discovering Customer's Needs
- Powerful Presentations Persuade Prospects to Buy
- Handling Objections and Closing
plus
- Other Specialized Topics
Fear-Free Prospecting & Self-Promotion Workshop®

The hesitation to initiate contact with prospective buyers on a consistent daily basis is the single most important reason for the failure of more motivated, goal directed, competent, capable salespeople than anything else in the world.



Quick-Start Back-to-Basics Sales Boot Camp™

This 2-1/2 day experiential (active audience participation) workshop teaches and encourages retention and application of fundamental selling skills through lecture, example, storytelling, visual stimulation, practical exercises, homework assignments and role-playing. It is centered on our core message.
Call Reluctance®, SPQ*GOLD®, Fear-Free Prospecting & Self-Promotion Workshop®, Psychscore® are registered trademarks of Behavioral Sciences Research Press, Inc., Dallas, Texas. ALL RIGHTS RESERVED.

Management Development Programs
- Evaluate your marketplace and locate your best opportunities
- Develop common sense goals in this difficult and challenging time
- Reposition yourself as a team-building leader within your company
- Improve your communication skills to motivate others
- Produce a practical new business development plan
- Create a motivational environment for your sales team
- Provide inspirational and purposeful supervision and leadership
- Dramatically change your outcomes!

Sales and Marketing executives/managers learn to build and maintain strong
distribution channels. This program is an excellent extension of the
High-Impact Sales Management™ training program




Unlock Your Full Potential Now


Motivation:
Short Programs and Speeches
******************************





Mike Stewart, Certified Speaking Professional (CSP), Registered
Corporate Coach (RCC), Sales
Trainer/Speaker, Executive Coach,
Sales Consultant, Author.


More


You Can Absolutely Do A Better Job of Growing Your Business,
Increasing Your Income, and Improving Your
Job Satisfaction and Your Life!
For more information
Contact Us
Subscribe to Our Free Sales Booster™ E-Zine
Sales, Management, Motivation, Attitude, Communications
Free Professional Development Bonus
Click for Details
Hiring Top Producers | Sales Training | Executive Coaching | Assessment Tools
Management Training | Programs & Speeches | Consulting | Mike's Book Store
Resources | Clients | About Us | Contact Us | Home | Privacy Statement
Mike Stewart Sales Dynamics
Division of
Stewart & Stewart, Inc.
P.O. Box 88718
Atlanta, GA 30356-8718

Brick and Mortar

490 Tavern Circle

Atlanta, GA 30350-4455

Tel: 770-512-0022
Fax: 770-671-0023
Email Us

©1999-2009 Stewart & Stewart Inc. All Rights Reserved.