Not Enough
Prospects in Your Pipeline?
FREE
Quick Start
Back-to-Basics
Sales Boot Camp
For
Newly-Hired Salespeople, Veteran Salespeople and Sales Managers/Coaches
Presented by
Mike Stewart
Atlanta, GA
To Be Announced
Sales Management Training Workshop
For
Sales Managers
and Executives
Presented by
Mike Stewart
Atlanta, GA
To Be Announced
Fear Free Prospecting and
Self Promotion
Workshop®
For
Salespeople,
Sales Managers/Coaches
and HR Professionals
Presented by
Mike Stewart
Atlanta, GA
To Be Announced
Call Reluctance®
Advanced Accreditation Training Workshop
For
Sales Managers/Coaches,
HR Professionals, Trainers, and Recruiters
Dallas, TX
May 1-3, 2012
For details about these programs and to register: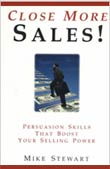 "Whether you're
new in sales or a seasoned veteran, this book is
a treasure!"
The Midwest Book Club

Order Your Copy
Close More Sales!
more info


Managing for

High Performance


"The best way to shape the future is to
transform people's basic expectations."
- Mercedes-Benz

You Cannot Teach What You Do Not Know,
You Cannot Lead Where You Will Not Go

There is a huge difference between achieving success through your own efforts and achieving success through the efforts of others. The purpose of management is to create the future you envision through the committed effort of others.
"Setting and communicating the right expectations is the
most important tool a manager has for imparting that
elusive drive to the people he supervises."
– Andrew S. Grove, CEO Intel
To help you affirm and achieve your vision, we offer the following specialized services:
Sophisticated scientific assessment tools to enable you to research and gather pertinent facts and opinions to use as a realistic foundation for creating your vision, plans and action initiatives. More

Consulting to assist you in developing your vision, plans and action initiatives. More

Management training to develop and refine your skills in hiring, motivating and developing a high-performance sales team. More

Coaching to guide and support you in the implementation of your plans and action initiatives. More

Sales training to equip your team to make the sales you require to achieve your goals. More

Highly specialized training to overcome Call Reluctance® to empower your salespeople to stop making excuses and make more sales calls. More

Inspirational, yet practical, resources to help you motivate and engage your team to generate a universal attitude of achievement and success. More


Call Reluctance®, SPQ*GOLD®, Fear-Free Prospecting & Self-Promotion Workshop®, Psychscore® are registered trademarks of Behavioral Sciences Research Press, Inc., Dallas, Texas. ALL RIGHTS RESERVED.

******************************



Mike Stewart, Certified Speaking Professional (CSP), Registered
Corporate Coach (RCC), Sales Trainer/Speaker, Executive Coach,
Sales Consultant, Author.


More


You Can Absolutely Do A Better Job of Growing Your Business,
Increasing Your Income, and Improving Your
Job Satisfaction and Your Life!
For More Information
Contact Us

Subscribe to Our Free Sales Booster™ E-Zine
Sales, Management, Motivation, Attitude, Communications
Free Professional Development Bonus
Click for Details
Hiring Top Producers | Sales Training | Executive Coaching | Assessment Tools
Management Training | Programs & Speeches | Consulting | Mike's Book Store
Resources | Clients | About Us | Contact Us | Home | Privacy Statement
Mike Stewart Sales Dynamics
Division of
Stewart & Stewart, Inc.
24315 S Stoney Path Drive
Sun Lakes, AZ 85248


TEL: 480-883-3008
FAX: 206-203-4156
Email Us

©1999-2013 Stewart & Stewart Inc. All Rights Reserved.