Not Enough
Prospects in Your Pipeline?
FREE
Quick Start
Back-to-Basics
Sales Boot Camp
For
Newly-Hired Salespeople, Veteran Salespeople and Sales Managers/Coaches
Presented by
Mike Stewart
Atlanta, GA
To Be Announced
Sales Management Training Workshop
For
Sales Managers
and Executives
Presented by
Mike Stewart
Atlanta, GA
To Be Announced
Fear Free Prospecting and
Self Promotion
Workshop®
For
Salespeople,
Sales Managers/Coaches
and HR Professionals
Presented by
Mike Stewart
Atlanta, GA
To Be Announced
Call Reluctance®
Advanced Accreditation Training Workshop
For
Sales Managers/Coaches,
HR Professionals, Trainers, and Recruiters
Dallas, TX
May 1-3, 2012
For details about these programs and to register: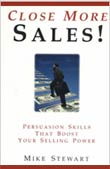 "Whether you're
new in sales or a seasoned veteran, this book is
a treasure!"
The Midwest Book Club

Order Your Copy
Close More Sales!
more info


Motivating High Performance!

"Peak performance is more about passion
than it is about understanding."
- Mike Stewart, CSP

High producing salespeople choose to feel the passion that drives them to achieve success.
It is not enough to intellectually understand the reasons why you need to make more calls, qualify more suspects and add more prospects to your pipeline. Nor is it enough to understand that you need to sharpen and apply your sales skills, and persist in following up prospects to close more sales.
Understanding the how's and why's is of little value if you lack the passion to take the action required to succeed.
Motivation is a choice. It is choosing a passion for achievement!

"Everything begins with attitude!"
- Mike Stewart, CSP

Engage and inspire your team to choose a motivated attitude focused on success with these inspirational and life-changing resources.
"As always, thanks for the reality check. You will
never realize what you have done for me."
- Sara Porter, Stockhausen

"Mike, as I read this month's Sales Booster
on 'Passion', it reminded me to look back on
this year and see that I met most of my goals. One of the reasons I met these goals is due to your Sales Boosters. Thank you for doing what you do." - Roger King, Sherry Laboratories

"Thanks for your encouragement. In fact,
your e-mail was on the money for me today.
- Al Turner, BostikFindley-US





"Mike, as always - it was a great read."
- Jeff Durkee, Regal Lager, Co.


"Thanks again for all of the insight and motivation. The article 'Time To Grow Up Again' has come at quite an opportune moment as I find myself blaming the company for a current situation which has affected my income adversely, instead of
accepting the situation and working hard to get around it."
Thanks a million!
Troy


Learn more about sales, management, motivation and communications, and
kick-start your ATTITUDE twice a month. Our popular E-zine is provided to
our subscribers FREE of charge. Special educational bonus included.
Click To Subscribe

"Your e-zines have helped put things into perspective for me. One of the most
important things I have gleaned from the 11 months of contact with
you has been the importance of creativity in motivation."
- Tom Rooney, Elantec
Motivational Sales Training,
Programs and Speeches

"...You really touched me as a very caring person. It was only a 3-day seminar and in that short time you made me feel so good to be alive." - John Leyo, Applied Industrial Technologies

"Your spirit sings and dances...you invite us to share in your joy. You are a natural storyteller and invite each of us to experience the richness of life. I thank you for the course, but more than that I appreciate and thank you for who you are."
- John Brunner, Klipsch
"Mike is an enjoyable speaker and educator. His approach is disarming
and he has a wonderful way of engaging his audience."
– Joe Giovino, Lee Marketing

Seeds of Sales Success™

Action oriented 8½ x 11 posters presenting practical sales tips as motivational sayings by Mike Stewart that help create a positive attitude and desire to succeed.
Three series of 12 Posters each - Commitment, Courage, Leadership
Learn More at Mike Stewart's Book Store
---
"I don't see many salespeople who are over-trained
or suffering from too much motivation."
- Mike Stewart, CSP
"You'll never be a hot dog if you think like a weenie."
- Mike Stewart, CSP
******************************





Mike Stewart, Certified Speaking Professional (CSP), Registered
Corporate Coach (RCC), Sales
Trainer/Speaker, Executive Coach,
Sales Consultant, Author.


More

You Can Absolutely Do A Better Job of Growing Your Business,
Increasing Your Income, and Improving Your
Job Satisfaction and Your Life!
For more information
Contact Us
Subscribe to Our Free Sales Booster™ E-Zine
Sales, Management, Motivation, Attitude, Communications
Free Professional Development Bonus
Click for Details
Hiring Top Producers | Sales Training | Executive Coaching | Assessment Tools
Management Training | Programs & Speeches | Consulting | Mike's Book Store
Resources | Clients | About Us | Contact Us | Home | Privacy Statement
Mike Stewart Sales Dynamics
Division of
Stewart & Stewart, Inc.
24315 S Stoney Path Drive
Sun Lakes, AZ 85248


TEL: 480-883-3008
FAX: 206-203-4156
Email Us

©1999-2013 Stewart & Stewart Inc. All Rights Reserved.