Not Enough
Prospects in Your Pipeline?
FREE
Quick Start
Back-to-Basics
Sales Boot Camp
For
Newly-Hired Salespeople, Veteran Salespeople and Sales Managers/Coaches
Presented by
Mike Stewart
Atlanta, GA
To Be Announced
Sales Management Training Workshop
For
Sales Managers
and Executives
Presented by
Mike Stewart
Atlanta, GA
To Be Announced
Fear Free Prospecting and
Self Promotion
Workshop®
For
Salespeople,
Sales Managers/Coaches
and HR Professionals
Presented by
Mike Stewart
Atlanta, GA
To Be Announced
Call Reluctance®
Advanced Accreditation Training Workshop
For
Sales Managers/Coaches,
HR Professionals, Trainers, and Recruiters
Dallas, TX
May 1-3, 2012
For details about these programs and to register: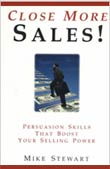 "Whether you're
new in sales or a seasoned veteran, this book is
a treasure!"
The Midwest Book Club

Order Your Copy
Close More Sales!
more info



<-- Subscribe Here

Grow Your Motivation,
Attitude, Communication,
Sales and Management Skills

Subscribe to our


Free


Sales Booster Minute™ E-zine

"Thanks Mike. My team and I always
get a lot out of these tips."
– Neil Brower,
Celltech Pharmaceuticals

Subscribe At Top Left Of Page


"Mike, to be honest yours is one of the few emails
I continue to read. I find your emails
uplifting and informative."
- Allen McMillon, Insight Research


Plus - Receive our
Free
Pre-Call Planning Guide
"Plan Every Call To Sell More New Business"
Plan your work and work your plan
Helps you remember to prepare yourself for every sales call the way top sales producers prepare themselves.
Heavy hitters know that selling is not about salespeople and their products, but it's about customers and their problems. They are aware that a sale is not an event, but a process, and they know how to move that process along call after call, one sales call at at time. To do that, they know how to make the most of every call.
This Pre-Call Planning Guide will show you how to:
Develop and maintain continuity from call to call

Think more objectively about your sales call objectives

Improve your relationships with customers you may not be
comfortable with

Drill deeper to find customer needs you may have been missing
Plus -

Remind you of some other fundamentals you may be overlooking
One of the best ways for good salespeople to get better is to make the most out of every opportunity.

You create your opportunities to win every time you walk through a door, or pick up a phone, to interact with a customer.

Make the most of every one of these opportunities by taking five minutes, or less, to be sure you are ready.

Then walk out a winner.
"The will to win demands the willingness to prepare."
- Mike Stewart, CSP
Be encouraged, always,

Mike
You must have Adobe® Acrobat® Reader
installed to view this e-product. For FREE
installation click: Acrobat® Reader®

Thanks for your interest in
Mike Stewart Sales Dynamics

We care about you and your success!
Please Contact Us at any time.
******************************

You Can Absolutely Do A Better Job of Growing Your Business,
Increasing Your Income, and Improving Your
Job Satisfaction and Your Life!

Hiring Top Producers | Sales Training | Executive Coaching | Assessment Tools
Management Training | Programs & Speeches | Consulting | Mike's Book Store
Resources | Clients | About Us | Contact Us | Home | Privacy Statement
Mike Stewart Sales Dynamics
Division of
Stewart & Stewart, Inc.
24315 S Stoney Path Drive
Sun Lakes, AZ 85248


TEL: 480-883-3008
FAX: 206-203-4156
Email Us

©1999-2013 Stewart & Stewart Inc. All Rights Reserved.