Not Enough
Prospects in Your Pipeline?
FREE
Quick Start
Back-to-Basics
Sales Boot Camp
For
Newly-Hired Salespeople, Veteran Salespeople and Sales Managers/Coaches
Presented by
Mike Stewart
Atlanta, GA
To Be Announced
Sales Management Training Workshop
For
Sales Managers
and Executives
Presented by
Mike Stewart
Atlanta, GA
To Be Announced
Fear Free Prospecting and
Self Promotion
Workshop®
For
Salespeople,
Sales Managers/Coaches
and HR Professionals
Presented by
Mike Stewart
Atlanta, GA
To Be Announced
Call Reluctance®
Advanced Accreditation Training Workshop
For
Sales Managers/Coaches,
HR Professionals, Trainers, and Recruiters
Dallas, TX
May 1-3, 2012
For details about these programs and to register: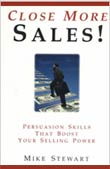 "Whether you're
new in sales or a seasoned veteran, this book is
a treasure!"
The Midwest Book Club

Order Your Copy
Close More Sales!
more info


Consulting

Services

Sales and Business Performance Development
Proven results-oriented consulting services by Stewart & Stewart, Inc. are focused on hiring and developing high-performance sales teams and, in certain special cases, improving the performance of other business units.

"Two years ago, we had been experiencing little to no
growth for about three years. We had begun working
with you to help us identify our weaknesses and needed
areas of improvement. You helped us get our company back
on track. I can now say we have a very aggressive, well-trained
and focused sales team that is currently on track to increase
sales by 20% and gross profit by 40% this year. We have
very high expectations for the years to come.
- Randy N. Waldman, VP of Sales, Lintech International

Our consultative engagements typically include:
Assessment to determine the current situation
Interviews and retreat facilitation to create vision and goals
Planning to create paths forward
Staffing as needed
Training to establish needed skills
Coaching

Consulting services are custom-tailored for each engagement and are designed
to meet the unique needs of each client's situation.

In addition to helping clients hire blue-chip salespeople, our consultations include
such services as:
Sales Systems Audits
Territory Planning and Analysis
Sales Compensation and Incentive Programs
Sales Distribution Analysis
Strategic Planning
Organizational Development


"If you don't know where you're going,
you'll wind up somewhere else."
- Yogi Berra
To begin improving your business now
Contact Us


******************************

You Can Absolutely Do A Better Job of Growing Your Business,
Increasing Your Income, and Improving Your
Job Satisfaction and Your Life!


For More Information
Contact Us

Subscribe to Our Free Sales Booster™ E-Zine
Sales, Management, Motivation, Attitude, Communications
Free Professional Development Bonus
Click for Details
Hiring Top Producers | Sales Training | Executive Coaching | Assessment Tools
Management Training | Programs & Speeches | Consulting | Mike's Book Store
Resources | Clients | About Us | Contact Us | Home | Privacy Statement
Mike Stewart Sales Dynamics
Division of
Stewart & Stewart, Inc.
24315 S Stoney Path Drive
Sun Lakes, AZ 85248


TEL: 480-883-3008
FAX: 206-203-4156
Email Us

©1999-2013 Stewart & Stewart Inc. All Rights Reserved.