Not Enough
Prospects in Your Pipeline?
FREE
Quick Start
Back-to-Basics
Sales Boot Camp
For
Newly-Hired Salespeople, Veteran Salespeople and Sales Managers/Coaches
Presented by
Mike Stewart
Atlanta, GA
To Be Announced
Sales Management Training Workshop
For
Sales Managers
and Executives
Presented by
Mike Stewart
Atlanta, GA
To Be Announced
Fear Free Prospecting and
Self Promotion
Workshop®
For
Salespeople,
Sales Managers/Coaches
and HR Professionals
Presented by
Mike Stewart
Atlanta, GA
To Be Announced
Call Reluctance®
Advanced Accreditation Training Workshop
For
Sales Managers/Coaches,
HR Professionals, Trainers, and Recruiters
Dallas, TX
May 1-3, 2012
For details about these programs and to register: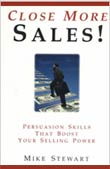 "Whether you're
new in sales or a seasoned veteran, this book is
a treasure!"
The Midwest Book Club

Order Your Copy
Close More Sales!
more info


E-Workbook / Training Manual:
24 Karat Sales Standards
Two Dozen Gold Nuggets to Help You
Sell More New Business
By Mike Stewart

$4.97

8-1/2 x 11 Format, 37 pp
Stewart & Stewart, Inc., Atlanta

This product is available for immediate .pdf download.
You must have Adobe Acrobat® Reader® installed to view this e-product.
For FREE installation click Acrobat® Reader®


The Sales profession is unlike other professions, such as medicine, law or even insurance or real estate, in that there are no standardized examinations required to become licensed. There is no formal Code of Ethics or governmental agencies that enforce standards within our profession. There are no established standards of performance at all.
As a result, it is easy for sales professionals to become complacent in executing our processes and in pursuing our professional goals. It is way too easy for us to lose sight of those practices and procedures that produce results.
Invariably, this leads to performance very much below our individual capabilities, sales that are clearly not representative of potentials in our territories, earnings below our personal potentials, and career plateaus that can stifle even the greatest potential. This E-Book offers specific exercises that lead you to develop 24 critical-to-success sales development techniques that will add significantly to your skill set.
This will enable you to:
Establish and achieve ever-higher standards,
Sell much more new business,
Grow your self-esteem,
Reaffirm your self-worth, and
Earn what you are worth.

******************************




You Can Absolutely Do A Better Job of Growing Your Business,
Increasing Your Income, and Improving Your
Job Satisfaction and Your Life!
For more information
Contact Us
Subscribe to Our Free Sales Booster™ E-Zine
Sales, Management, Motivation, Attitude, Communications
Free Professional Development Bonus
Click for Details
Hiring Top Producers | Sales Training | Executive Coaching | Assessment Tools
Management Training | Programs & Speeches | Consulting | Mike's Book Store
Resources | Clients | About Us | Contact Us | Home | Privacy Statement