Not Enough
Prospects in Your Pipeline?
FREE
Quick Start
Back-to-Basics
Sales Boot Camp
For
Newly-Hired Salespeople, Veteran Salespeople and Sales Managers/Coaches
Presented by
Mike Stewart
Atlanta, GA
To Be Announced
Sales Management Training Workshop
For
Sales Managers
and Executives
Presented by
Mike Stewart
Atlanta, GA
To Be Announced
Fear Free Prospecting and
Self Promotion
Workshop®
For
Salespeople,
Sales Managers/Coaches
and HR Professionals
Presented by
Mike Stewart
Atlanta, GA
To Be Announced
Call Reluctance®
Advanced Accreditation Training Workshop
For
Sales Managers/Coaches,
HR Professionals, Trainers, and Recruiters
Dallas, TX
May 1-3, 2012
For details about these programs and to register: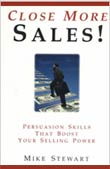 "Whether you're
new in sales or a seasoned veteran, this book is
a treasure!"
The Midwest Book Club

Order Your Copy
Close More Sales!
more info


Hiring Top Performers—350 Great Interview Questions For People Who Need People

Revised, 2003 - $14.95
ISBN 0-966201-0-8

To Purchase this Book, please contact the author by email at
GAonMind@aol.com



Hiring top performers for your department or organization is critical to your bottom line! This book is ideal for businesses of all sizes, in all industries; it offers 350 sample interview questions in eight categories to help you get the information needed to make sound and defensible hiring decisions. It's written in clear language and offers practical guidance to hiring managers at all levels. It provides questions that will quickly allow you to compare one candidate against another based upon their answers. Initially, published in October 1995, it soon became a bestseller and
on-the-shelf consultant for everyone with responsibilities for interviewing and hiring.


******************************




You And Your Team Members Can Absolutely Do A Better Job of
Growing Your Business, Increasing Your Income, and
Improving Your Job Satisfaction and Your Life!
For more information
Contact Us
Subscribe to Our Free Sales Booster™ E-Zine
Sales, Management, Motivation, Attitude, Communications
Free Professional Development Bonus
Click for Details
Hiring Top Producers | Sales Training | Executive Coaching | Assessment Tools
Management Training | Programs & Speeches | Consulting | Mike's Book Store
Resources | Clients | About Us | Contact Us | Home | Privacy Statement