Not Enough
Prospects in Your Pipeline?
FREE
Quick Start
Back-to-Basics
Sales Boot Camp
For
Newly-Hired Salespeople, Veteran Salespeople and Sales Managers/Coaches
Presented by
Mike Stewart
Atlanta, GA
To Be Announced
Sales Management Training Workshop
For
Sales Managers
and Executives
Presented by
Mike Stewart
Atlanta, GA
To Be Announced
Fear Free Prospecting and
Self Promotion
Workshop®
For
Salespeople,
Sales Managers/Coaches
and HR Professionals
Presented by
Mike Stewart
Atlanta, GA
To Be Announced
Call Reluctance®
Advanced Accreditation Training Workshop
For
Sales Managers/Coaches,
HR Professionals, Trainers, and Recruiters
Dallas, TX
May 1-3, 2012
For details about these programs and to register: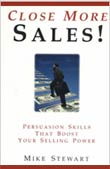 "Whether you're
new in sales or a seasoned veteran, this book is
a treasure!"
The Midwest Book Club

Order Your Copy
Close More Sales!
more info


E-Book / Training Manual:
Supercharge Your Persuasion Power!
Communication Skills That Boost Your Ability to
Influence Others
by Mike Stewart

$7.97

8-1/2 x 11 Format, 48 pp
Stewart & Stewart, Inc., Atlanta

This product is available for immediate .pdf download.
You must have Adobe Acrobat® Reader® installed to view this e-product.
For FREE installation, click

Acrobat

®

Reader

®




Day in and day out we are in situations that require us to deal with others and we constantly repeat the learned behaviors that have become completely ingrained as habitual reflexes within us. All too often, these behaviors conflict with the behaviors of other people upon whom we depend to get the things we want. People don't care about you and your interests nearly as much as they care about themselves and what's in it for them. As a result, how you present yourself to others influences how they see you and directly affects your day-to-day success in dealing with them.
"Supercharge Your Persuasion Power" enables you to learn what these behaviors are based on, what others are looking for from you, and how to modify your behaviors to influence others who can help you get what you want.
In this book you will learn how to:
- Understand the different behavioral preferences people exhibit
- Determine the specific behavioral styles of other individuals
- Handle the stress caused by dealing with difficult people
- Adapt your behavior to make others more accepting of you
- Use specific persuasion techniques to help you succeed with others
I first studied these methodologies years ago under Charles Menzies, the founder of Management Research Associates in Media, PA. He was a pioneer in the development and use of behavioral assessment instruments and their practical application in day-to-day situations, both business and personal. What I found was: nothing contributed more to my success than my ability to use these skills and techniques to get other people to do what I wanted them to do. I hope they work as well for you as they have for me, and as well as they have for hundreds of others whom I've trained to use them.
- Mike Stewart, CSP, RCC
******************************




You Can Absolutely Do A Better Job of Growing Your Business,
Increasing Your Income, and Improving Your
Job Satisfaction and Your Life!
For more information
Contact Us
Subscribe to Our Free Sales Booster™ E-Zine
Sales, Management, Motivation, Attitude, Communications
Free Professional Development Bonus
Click for Details
Hiring Top Producers | Sales Training | Executive Coaching | Assessment Tools
Management Training | Programs & Speeches | Consulting | Mike's Book Store
Resources | Clients | About Us | Contact Us | Home | Privacy Statement