Not Enough
Prospects in Your Pipeline?
FREE
Quick Start
Back-to-Basics
Sales Boot Camp
For
Newly-Hired Salespeople, Veteran Salespeople and Sales Managers/Coaches
Presented by
Mike Stewart
Atlanta, GA
To Be Announced
Sales Management Training Workshop
For
Sales Managers
and Executives
Presented by
Mike Stewart
Atlanta, GA
To Be Announced
Fear Free Prospecting and
Self Promotion
Workshop®
For
Salespeople,
Sales Managers/Coaches
and HR Professionals
Presented by
Mike Stewart
Atlanta, GA
To Be Announced
Call Reluctance®
Advanced Accreditation Training Workshop
For
Sales Managers/Coaches,
HR Professionals, Trainers, and Recruiters
Dallas, TX
May 1-3, 2012
For details about these programs and to register: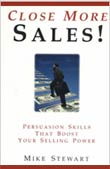 "Whether you're
new in sales or a seasoned veteran, this book is
a treasure!"
The Midwest Book Club

Order Your Copy
Close More Sales!
more info


E-Book / Training Manual:
Target Your Time
To Sell More New Business
by Mike Stewart

$7.97

8-1/2 x 11 Format, 28 pp
Stewart & Stewart, Inc., Atlanta

This product is available for immediate .pdf download.
You must have Adobe Acrobat® Reader® installed to view this e-product.
For FREE installation, click

Acrobat

®

Reader

®






Virtually every salesperson must sell new business in order to achieve the level of sales expected of them.
Many salespeople, and sales management teams, say they understand this and give lip service to it. However, in actuality they do not make selling new business a priority in their planning. One of the main reasons for this is the preoccupation with the notion that there is not enough time to sell new business and do everything else required.
Not surprisingly, it is indeed a fact that there is not enough time to do everything usually required of most salespeople. This book will give you extraordinary insight into this problem. Then, it will help you analyze the many tasks expected of salespeople, prioritize those tasks, and eliminate the ones that are taking salespeople away from their primary objective - selling new business.
Even when salespeople are able to create enough time to sell more new business, they don't succeed in selling enough new business because so many salespeople tend to call on the wrong accounts!
This book will enable you to make more sales time available and identify the accounts and prospects you should be focused on and spending your time with.
You Will Cover Three Powerful Lessons Where You Will Learn
The three Universal Laws of Sales Success
The amount of new business you must sell to meet your target
How much of this business you must prospect for and sell with new customers
Exactly why your potential sales time is being used up unproductively
What unproductive tasks you should eliminate, and how to go about doing it
The single characteristic shared by the most successful salespeople
How Heavy Hitters allocate their time to sell more new business
To use a brilliant time allocation matrix proven over half a century
Why targeting your time is a choice, and how to choose wisely
Why many activities that lead you to believe you are accomplishing something are really destroying your productivity
Four reasons you continue to you feel stressed, burned out, out of control, and what to do about it
Four proven techniques that enable you to master your time
How the 80/20 Rule really works and four simple steps to make it work for you
The easiest way to find and sell more new business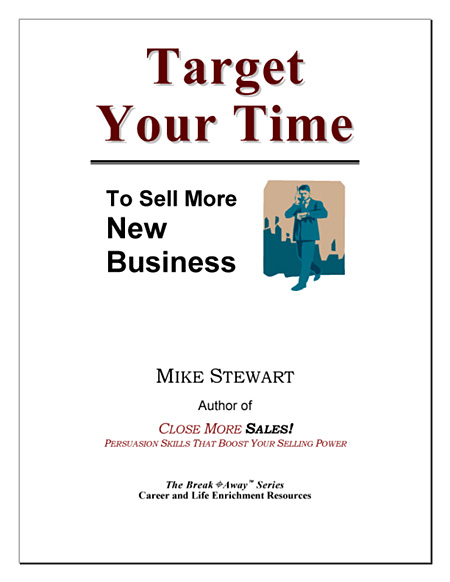 ******************************




You Can Absolutely Do A Better Job of Growing Your Business,
Increasing Your Income, and Improving Your
Job Satisfaction and Your Life!
For more information
Contact Us
Subscribe to Our Free Sales Booster™ E-Zine
Sales, Management, Motivation, Attitude, Communications
Free Professional Development Bonus
Click for Details
Hiring Top Producers | Sales Training | Executive Coaching | Assessment Tools
Management Training | Programs & Speeches | Consulting | Mike's Book Store
Resources | Clients | About Us | Contact Us | Home | Privacy Statement