Not Enough
Prospects in Your Pipeline?
FREE
Quick Start
Back-to-Basics
Sales Boot Camp
For
Newly-Hired Salespeople, Veteran Salespeople and Sales Managers/Coaches
Presented by
Mike Stewart
Atlanta, GA
To Be Announced
Sales Management Training Workshop
For
Sales Managers
and Executives
Presented by
Mike Stewart
Atlanta, GA
To Be Announced
Fear Free Prospecting and
Self Promotion
Workshop®
For
Salespeople,
Sales Managers/Coaches
and HR Professionals
Presented by
Mike Stewart
Atlanta, GA
To Be Announced
Call Reluctance®
Advanced Accreditation Training Workshop
For
Sales Managers/Coaches,
HR Professionals, Trainers, and Recruiters
Dallas, TX
May 1-3, 2012
For details about these programs and to register: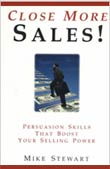 "Whether you're
new in sales or a seasoned veteran, this book is
a treasure!"
The Midwest Book Club

Order Your Copy
Close More Sales!
more info


E-Book / Training Manual:
The Dirty Dozen
12 Killer Mistakes That Murder Sales
by Mike Stewart

$5.97

8-1/2 x 11 Format, 33 pp
Stewart & Stewart, Inc., Atlanta

This product is available for immediate .pdf download.
You must have Adobe Acrobat® Reader® installed to view this e-product.
For FREE installation click Acrobat® Reader®

Self-sabotage is a sad thing, yet I see many otherwise competent, caring salespeople defeating themselves by making serious, career-limiting mistakes that they are often unaware of!
The Dirty Dozen identifies, describes and offers solutions to twelve of the most common and costly mistakes I see constantly in my sales consulting and training business – plus one. The first twelve seem so obvious its ridiculous, which is why they are so deadly! Most victims just don't believe they are making such obvious errors.
The 13th mistake discussed here, as a little something extra, is without a doubt the single biggest cause of inadequate sales performance I see anywhere. I see it all the time, and, unfortunately, I see it getting worse and worse in sales organizations of all sizes, and in all industries.
All 13 of these mistakes are being made day in and day out by veteran sales professionals as well as rank beginners everywhere. However, most don't recognize that they are making these mistakes. As they read "The Dirty Dozen" and realize where they may be falling short, the brief commentaries on solutions will enable them to make course corrections on call after call, day after day and sell more new business.
Correct these deadly mistakes and Close More Sales!
Be encouraged, always,
Mike



******************************




You Can Absolutely Do A Better Job of Growing Your Business,
Increasing Your Income, and Improving Your
Job Satisfaction and Your Life!
For more information
Contact Us
Subscribe to Our Free Sales Booster™ E-Zine
Sales, Management, Motivation, Attitude, Communications
Free Professional Development Bonus
Click for Details
Hiring Top Producers | Sales Training | Executive Coaching | Assessment Tools
Management Training | Programs & Speeches | Consulting | Mike's Book Store
Resources | Clients | About Us | Contact Us | Home | Privacy Statement