Not Enough
Prospects in Your Pipeline?
FREE
Quick Start
Back-to-Basics
Sales Boot Camp
For
Newly-Hired Salespeople, Veteran Salespeople and Sales Managers/Coaches
Presented by
Mike Stewart
Atlanta, GA
To Be Announced
Sales Management Training Workshop
For
Sales Managers
and Executives
Presented by
Mike Stewart
Atlanta, GA
To Be Announced
Fear Free Prospecting and
Self Promotion
Workshop®
For
Salespeople,
Sales Managers/Coaches
and HR Professionals
Presented by
Mike Stewart
Atlanta, GA
To Be Announced
Call Reluctance®
Advanced Accreditation Training Workshop
For
Sales Managers/Coaches,
HR Professionals, Trainers, and Recruiters
Dallas, TX
May 1-3, 2012
For details about these programs and to register: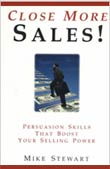 "Whether you're
new in sales or a seasoned veteran, this book is
a treasure!"
The Midwest Book Club

Order Your Copy
Close More Sales!
more info




Salespeople and Other
High Achievers

To Earn More and Get More of What You Want

1. Decide what you want and set your goals More

2. Assess your skills, strengths, and areas for improvement More
3. Get the training and education you need to succeed More
4. Prepare a plan to achieve your short- and long-term goals More
5. Apply what you know in the relentless execution of your plan More
"The key to success is doing what you need to do
when you need to do it, whether
you want to or not."
- Walter Hailey
We can help you earn more and get more of what you want by making our educational materials available to you, consulting with and coaching you on a one-to-one basis, and including you in our Open Enrollment (Public) training workshops. We can also help you by bringing our programs and other services to your company. See Below.

Education and Motivation:

- Learn more to earn more at Mike Stewart's Bookstore More
- Boost your Attitude, Motivation and Skills! Subscribe to Sales Boosters™ More
- Find links, tools, and other helpful tips at Free Resources More

Assessments:

- Workplace Motivators: Make the most of what motivates you More
- DISC: Learn to communicate more effectively with others More
- Call Reluctance®: Overcome the hesitation to contact new prospects More
- Sales Skills: How your skills compare and where you need development More


Training:

- Back to Basics Quick-Start Sales Boot Camp™ More
- Fear-Free Prospecting and Self-Promotion Workshop™ More

Coaching:

Our Personal Mastery™Coaching Program can help you break away from what is not
working, take control, and...unlock your full potential.

Bring Our Programs and Other Resources to Your Company
You can also benefit greatly by participating in training we can bring to your company. You may want to speak to your Manager, plus your company's Trainers
and HR Professionals, about the programs, products and services we offer or.

To send this Website to your Manager, click on the link below and type in
his/her name in the "To" line of the email with "cc" to you and then hit send.


Email This Web Site To Your Manager



Call Reluctance®, SPQ*GOLD®, Fear-Free Prospecting & Self-Promotion Workshop®, Psychscore® are registered trademarks of Behavioral Sciences Research Press, Inc., Dallas, Texas. ALL RIGHTS RESERVED.
******************************




Mike Stewart, Certified Speaking Professional (CSP), Registered
Corporate Coach (RCC), Sales
Trainer/Speaker, Executive Coach,
Sales Consultant, Author.


More

You Can Absolutely Do A Better Job of Growing your Business,
Increasing Your Income, and Improving Your
Job Satisfaction and Your Life!


For More Information
Contact Us

Subscribe to Our Free Sales Booster™ E-Zine
Sales, Management, Motivation, Attitude, Communications
Free Professional Development Bonus
Click for Details
Hiring Top Producers | Sales Training | Executive Coaching | Assessment Tools
Management Training | Programs & Speeches | Consulting | Mike's Book Store
Resources | Clients | About Us | Contact Us | Home | Privacy Statement
Mike Stewart Sales Dynamics
Division of
Stewart & Stewart, Inc.
P.O. Box 88718
Atlanta, GA 30356-8718

Brick and Mortar

490 Tavern Circle

Atlanta, GA 30350-4455

Tel: 770-512-0022
Fax: 770-671-0023
Email Us

©1999-2009 Stewart & Stewart Inc. All Rights Reserved.