Not Enough
Prospects in Your Pipeline?
FREE
Quick Start
Back-to-Basics
Sales Boot Camp
For
Newly-Hired Salespeople, Veteran Salespeople and Sales Managers/Coaches
Presented by
Mike Stewart
Atlanta, GA
To Be Announced
Sales Management Training Workshop
For
Sales Managers
and Executives
Presented by
Mike Stewart
Atlanta, GA
To Be Announced
Fear Free Prospecting and
Self Promotion
Workshop®
For
Salespeople,
Sales Managers/Coaches
and HR Professionals
Presented by
Mike Stewart
Atlanta, GA
To Be Announced
Call Reluctance®
Advanced Accreditation Training Workshop
For
Sales Managers/Coaches,
HR Professionals, Trainers, and Recruiters
Dallas, TX
May 1-3, 2012
For details about these programs and to register: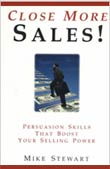 "Whether you're
new in sales or a seasoned veteran, this book is
a treasure!"
The Midwest Book Club

Order Your Copy
Close More Sales!
more info



Sales skills and sales planning techniques to add value, sell with power, and close more sales. These customized workshops teach successful strategic thinking and tactical sales behaviors. Integrated topics include sales negotiations and value added selling strategies.

Sales Development Topics Include:
- Powerful prospecting,
- Territory analysis and planning,
- Setting achievable goals.
- Time and territory management,
- Pre-call planning and preparation,
- Overcoming objections, and
- Closing like a pro.

Sale Negotiations Topics Include:
- Moving from selling to negotiating,
- Creating value through the negotiation process,
- Planning a win-win-win negotiation,
- Managing concessions,
- Ploys and effective counter tactics.
- Don't leave money on the table!

Value-Added Selling Topics Include:
- Principles of Value-Added Selling,
- Identifying and quantifying value-added potentials,
- Understanding the customer's business, and
- Multi-level power positioning.


Note: The material from our Communicate with Style! workshop is usually included as a learning module and integrated as core behavior into our customized Customer-Centered Value Selling Workshops and related sales training.


For more information on the topics in this series, and to
book Mike to speak to your organization,
Contact Us Now
Copyright © 2005 by Stewart & Stewart, Inc.
All rights reserved
******************************



You Can Absolutely Do A Better Job of Growing Your Business,
Increasing Your Income, and Improving Your
Job Satisfaction and Your Life!
For more information
Contact Us
Subscribe to Our Free Sales Booster™ E-Zine
Sales, Management, Motivation, Attitude, Communications
Free Professional Development Bonus
Click for Details
Hiring Top Producers | Sales Training | Executive Coaching | Assessment Tools
Management Training | Programs & Speeches | Consulting | Mike's Book Store
Resources | Clients | About Us | Contact Us | Home | Privacy Statement