Not Enough
Prospects in Your Pipeline?
FREE
Quick Start
Back-to-Basics
Sales Boot Camp
For
Newly-Hired Salespeople, Veteran Salespeople and Sales Managers/Coaches
Presented by
Mike Stewart
Atlanta, GA
To Be Announced
Sales Management Training Workshop
For
Sales Managers
and Executives
Presented by
Mike Stewart
Atlanta, GA
To Be Announced
Fear Free Prospecting and
Self Promotion
Workshop®
For
Salespeople,
Sales Managers/Coaches
and HR Professionals
Presented by
Mike Stewart
Atlanta, GA
To Be Announced
Call Reluctance®
Advanced Accreditation Training Workshop
For
Sales Managers/Coaches,
HR Professionals, Trainers, and Recruiters
Dallas, TX
May 1-3, 2012
For details about these programs and to register: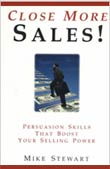 "Whether you're
new in sales or a seasoned veteran, this book is
a treasure!"
The Midwest Book Club

Order Your Copy
Close More Sales!
more info


Hire Mike to Speak at Your Next Meeting!

"Positive feedback has been overwhelming"

- Tim Burdick, VP, Bank of America

"Your leadership and passion made a strong impression.
I am so ready to meet the challenges that lie ahead."
- Alice Dickerson, Sales Manager, ACI Distribution





Mike Stewart, CSP Certified Speaking Professional
Registered Corporate Coach


Sales Managers and Executives

Are you losing sales because your
salespeople are struggling without
the skills and motivation they need
to close more sales?

- Erase excuses
- Increase prospecting
- Close more sales

You can overcome these challenges when you:



Salespeople and Other High Achievers



Want more confidence in making sales calls on new prospects? FREE on-line assessment. Immediate confidential results to your email.


Download FREE Reports:


Wisdom that leads to wealth and happiness is at your fingertips!



Visit Mike Stewart's Bookstore and learn more
to earn more. Mike's E-Books, works by many
successful experts, and other motivational and
educational products.

Call Reluctance®, SPQ*GOLD®, Fear-Free Prospecting & Self-Promotion Workshop®, and Psychscore® are
registered trademarks of Behavioral Sciences Research Press, Inc., Dallas, Texas. ALL RIGHTS RESERVED.


******************************




You Can Absolutely Do A Better Job of Growing Your Business,
Increasing Your Income, and Improving Your
Job Satisfaction and Your Life!

For more information
Contact Us


Subscribe to Our Free Sales Booster™ E-Zine
Sales, Management, Motivation, Attitude, Communications
Free Professional Development Bonus
Click For Details

Hiring Top Producers | Sales Training | Executive Coaching | Assessment Tools
Management Training | Programs & Speeches | Consulting | Mike's Book Store
Resources | Clients | About Us | Contact Us | Home | Privacy Statement

Mike Stewart Sales Dynamics
Division of
Stewart & Stewart, Inc.
24315 S Stoney Path Drive
Sun Lakes, AZ 85248


TEL: 480-883-3008
FAX: 206-203-4156
Email Us

©1999-2013 Stewart & Stewart Inc. All Rights Reserved.