Not Enough
Prospects in Your Pipeline?
FREE
Quick Start
Back-to-Basics
Sales Boot Camp
For
Newly-Hired Salespeople, Veteran Salespeople and Sales Managers/Coaches
Presented by
Mike Stewart
Atlanta, GA
To Be Announced
Sales Management Training Workshop
For
Sales Managers
and Executives
Presented by
Mike Stewart
Atlanta, GA
To Be Announced
Fear Free Prospecting and
Self Promotion
Workshop®
For
Salespeople,
Sales Managers/Coaches
and HR Professionals
Presented by
Mike Stewart
Atlanta, GA
To Be Announced
Call Reluctance®
Advanced Accreditation Training Workshop
For
Sales Managers/Coaches,
HR Professionals, Trainers, and Recruiters
Dallas, TX
May 1-3, 2012
For details about these programs and to register: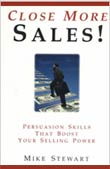 "Whether you're
new in sales or a seasoned veteran, this book is
a treasure!"
The Midwest Book Club

Order Your Copy
Close More Sales!
more info



Free Sales E-Books
to help you stay motivated and
Close More Sales!

Bookstore Quick-links: Print Books, E-Books and Manuals, About E-Books, Inspiration and Motivation, Mike's Book List, View Shopping Cart


Learn More About E-Books: Click Here


E-Book / Training Manual:
Supercharge Your Persuasion Power!
Communication Skills That Boost Your Ability to Influence Others
By Mike Stewart
$7.97

This book will help you gain trust, cooperation, support, and commitment from others by enabling you to understand what makes them tick, why they behave as they do and how they want you to communicate with them. Then it will teach you specific skills and techniques that you can use to purposefully interact more persuasively with people to favorably influence their decisions.

E-Book / Training Manual:
Target Your Time To Sell More New Business
By Mike Stewart
$7.97

This Mini-Sales course is designed to enable you to learn and apply three of the guiding principles of Mike Stewart Sales Dynamics™ and close many more sales.
"A masterpiece of sales self-
development by a master sales trainer."
Read more

E-Book / Training Manual:
The Dirty Dozen
12 Killer Mistakes That Murder Sales
By Mike Stewart
$5.97

Good salespeople hold themselves back by often committing serious mistakes. Even experienced sales veterans make incredible miscues, often without realizing it. This e-book identifies and shows you how to avoid twelve of the most common mistakes I see in my sales consulting business.
Read more

E-Workbook / Training Manual:
24 Karat Sales Standards
Two Dozen Gold Nuggets
To Help You Sell More
New Business
By Mike Stewart
$4.97

Standards enable us to know the optimum way to do something to get results we want. As you are able to master the solid gold standards presented in this
E-Book, you will be well on your way to succeeding in sales beyond your most ambitious expectations.
Read more

Learn More About E-Books

Dear Friend,
If you want to boost your career with informative books containing time-tested proven techniques that work in the field and produce the sales results you are after, my E-Books are for you.
If you want concise books containing the specifics you need and get directly to the point without wading through pages and pages of details and lots of 'fluff', my E-Books are for you.
If you want to receive your books immediately by downloading them directly via the internet, like email, without having to go from bookstore to bookstore looking for books that aren't in stock, or pay shipping charges and wait days for shipments to arrive, my E-Books are for you.
"E-Books contain the kind of information you would
normally highlight in other books."
- David Greenberg, CSP
E-Books are the most convenient, cost-effective way to access vital information immediately, read in minutes and put into effect within an hour from the time you purchase.
You may choose to read them on your computer screen or print and read from hard copy. E-Books are delivered like email in Acrobat Adobe .PDF format, for both Windows and Mac, so you have complete flexibility to print out only the pages you want now, and keep the others on file in your computer to use in the future.
No risk money-back guarantee if you aren't satisfied. No questions asked, and you can even keep the E-Book. Order your books NOW and within 30 minutes you can begin putting this valuable information to use.
"Sales success is a never-ending process
of learning and application."
- Mike Stewart, CSP
Learn more to earn more! Find out what thousands of readers have discovered about achieving success through the application of proven principles, sales skills, and powerful motivation.
******************************
You Can Absolutely Do A Better Job of Growing Your Business,
Increasing Your Income, and Improving Your
Job Satisfaction and Your Life!
For More Information
Contact Us
Subscribe to Our Free Sales Booster™ E-Zine
Sales, Management, Motivation, Attitude, Communications
Free Professional Development Bonus
Click for Details
Hiring Top Producers | Sales Training | Executive Coaching | Assessment Tools
Management Training | Programs & Speeches | Consulting | Mike's Book Store
Resources | Clients | About Us | Contact Us | Home | Privacy Statement