Not Enough
Prospects in Your Pipeline?
FREE
Quick Start
Back-to-Basics
Sales Boot Camp
For
Newly-Hired Salespeople, Veteran Salespeople and Sales Managers/Coaches
Presented by
Mike Stewart
Atlanta, GA
To Be Announced
Sales Management Training Workshop
For
Sales Managers
and Executives
Presented by
Mike Stewart
Atlanta, GA
To Be Announced
Fear Free Prospecting and
Self Promotion
Workshop®
For
Salespeople,
Sales Managers/Coaches
and HR Professionals
Presented by
Mike Stewart
Atlanta, GA
To Be Announced
Call Reluctance®
Advanced Accreditation Training Workshop
For
Sales Managers/Coaches,
HR Professionals, Trainers, and Recruiters
Dallas, TX
May 1-3, 2012
For details about these programs and to register: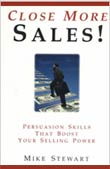 "Whether you're
new in sales or a seasoned veteran, this book is
a treasure!"
The Midwest Book Club

Order Your Copy
Close More Sales!
more info



Bookstore Quick-links: Print Books, E-Books and Manuals, About E-Books, Inspiration and Motivation, Mike's Book List, View Shopping Cart
Seeds of SuccessTM Motivational Posters
Action oriented 8˝ x 11 posters presenting practical sales tips as motivational sayings by Mike Stewart that help create a positive attitude and desire to succeed.
Read more







"Sales success is a never-ending process
of learning and application."
- Mike Stewart, CSP


Learn more to earn more! Find out what thousands of readers have discovered about achieving success through the application of proven principles, sales skills, and powerful motivation.

******************************
You Can Absolutely Do A Better Job of Growing Your Business,
Increasing Your Income, and Improving Your
Job Satisfaction and Your Life!
For More Information
Contact Us
Subscribe to Our Free Sales Booster™ E-Zine
Sales, Management, Motivation, Attitude, Communications
Free Professional Development Bonus
Click for Details
Hiring Top Producers | Sales Training | Executive Coaching | Assessment Tools
Management Training | Programs & Speeches | Consulting | Mike's Book Store
Resources | Clients | About Us | Contact Us | Home | Privacy Statement