Not Enough
Prospects in Your Pipeline?
FREE
Quick Start
Back-to-Basics
Sales Boot Camp
For
Newly-Hired Salespeople, Veteran Salespeople and Sales Managers/Coaches
Presented by
Mike Stewart
Atlanta, GA
To Be Announced
Sales Management Training Workshop
For
Sales Managers
and Executives
Presented by
Mike Stewart
Atlanta, GA
To Be Announced
Fear Free Prospecting and
Self Promotion
Workshop®
For
Salespeople,
Sales Managers/Coaches
and HR Professionals
Presented by
Mike Stewart
Atlanta, GA
To Be Announced
Call Reluctance®
Advanced Accreditation Training Workshop
For
Sales Managers/Coaches,
HR Professionals, Trainers, and Recruiters
Dallas, TX
May 1-3, 2012
For details about these programs and to register: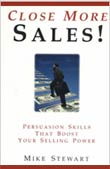 "Whether you're
new in sales or a seasoned veteran, this book is
a treasure!"
The Midwest Book Club

Order Your Copy
Close More Sales!
more info


Close More Sales!
By Mike Stewart
Most salespeople don't like
to be told how to sell or, especially, to be given a 'model' or 'system' to follow. This book teaches proven principles, not rules and regulations. It is written in language people understand and appreciate. Read more

The Psychology of
Sales Call Reluctance®
By George W. Dudley and Shannon L. Goodson
The 'Bible' of Call Reluctance® explains what it is and isn't and where it comes from, describes the 12 forms and covers the scientifically proven countermeasures that enable salespeople to overcome it and earn what they're worth.
Read more

The Universal Language
DISC Reference Manual
By Bill J. Bonnstetter
and Judy I. Suiter
The Universal Language
DISC is the most
complete reference
pertaining to the DISC
language on the market
today! This hard-cover
manual contains over 287
pages of useful information
on behavioral styles, the
DISC language and assists
in the under-standing of
how behavior plays out in human interaction.

Link to
amazon.com
Buy Direct and Save


Reach for the Stars
Anthology
Twenty outstanding trainers, speakers, and consultants share their success secrets so you can soar! Chapters on, Leading by Example, Self Esteem, Communications, Finding Fulfillment in your Work, Networking, and sales secrets that lead to success.
Read more

Hiring Top Performers
By Carol Hacker
350 sample interview questions in eight categories to help you make sound and defensible hiring decisions. Offers practical guidance to hiring managers at all levels. Enables you to quickly compare one candidate against another.
Read more


Time Tactics Of Very Successful People
By B. Eugene Griessman
A new approach to time management focusing on
how highly successful
people get their work done without sacrificing the life
they live.
Read more

Never Beat The Boss At Horseshoes
By Roy Lantz
Life is a lot like horseshoes - it's a whole lot more fun when you're doing what it takes to win. In horseshoes, that's throwing ringers, and this book will help you throw ringer after ringer in the game of life. Whether you're the state champ or have never picked up a horseshoe, you'll learn to approach the game of life from a whole new perspective.
More Info


Find It In Five Seconds
By Greg Vetter
Find It In Five Seconds will rescue you from drowning in chaos and confusion with its simple, 15 year proven, step-by-step organizational system. Easy to understand, filled with over a hundred helpful diagrams, and written with a sense of humor rarely found in business books. Find It In Five Seconds will keep you afloat and on course as you navigate through the vast sea of e-mails, paper and information you face every day.
More Info




Chicken Soup for the
Soul at Work (Anthology)

"Staying Motivated!"

By Mike Stewart
Salespeople can increase
their motivation during pre-
call planning by using
positive self programming.
See Mike's Book List for additional suggested print book selections. Purchase directly from Amazon.com and SAVE.
"Sales success is a never-ending process
of learning and application."
- Mike Stewart, CSP

Learn more to earn more! Find out what thousands of readers have discovered about achieving success through the application of proven principles, sales skills, and powerful motivation.
******************************
You Can Absolutely Do A Better Job of Growing Your Business,
Increasing Your Income, and Improving Your
Job Satisfaction and Your Life!
For More Information
Contact Us
Subscribe to Our Free Sales Booster™ E-Zine
Sales, Management, Motivation, Attitude, Communications
Free Professional Development Bonus
Click for Details
Hiring Top Producers | Sales Training | Executive Coaching | Assessment Tools
Management Training | Programs & Speeches | Consulting | Mike's Book Store
Resources | Clients | About Us | Contact Us | Home | Privacy Statement